So you've finally decided to take a leap of faith and study in Germany.
Perfect;
All that's left is to find an English Degree Program.. right?
Sounds easy. But isn't!
There is a plethora of courses being offered by a number of Universities in Germany and if one thing is certain – it's that there is definitely something that'll interest you.
It's just a matter of digging out such gems so that you can focus on your application.
.. and in this blog post, I'll show you step-by-step how to find a degree program.
First things first
The good thing about studying in Germany is that unlike other popular student destinations like the US, UK, or Australia, the University sector is not privatized i.e. they're all state-owned and funded.
For this reason, not only the Universities are cheaper and more accessible to the general public, but they're also not in competition with one another.
See, private Universities must excel when compared to their counterparts because that's how they attract the best professors and can justify the fee they set.
Moreover, this competition brings ranking and prestigiousness into the equation, and now if someone fails to enter one of the top-notch Universities, he'd be set for a minor disadvantage from the word go.
Being state owned and funded, Germany is not a victim of such useless conversations.
This doesn't mean that the Universities here aren't ranked among the best – in fact Germany has 12 Universities in the top 200 best-ranked Universities in the World.
What I do mean is that you'll never hear about companies, employees or employer's discussing these matters at any point in time.
Note: There are a set of 9 Universities, namely TU9, which are considered a set above the rest. However, TU9 was established in 2003 as an informal consortium of those Institutes of Technology in Germany which were established before 1900.
What is Daad?
DAAD – Deutscher Akademischer Austauschdienst or simply German Academic Exchange Service, is the world's largest independent funding organization devoted to internationalizing the academic system through the promotion of international exchange of students and researchers.
True to its Motto "Change by Exchange", DAAD acts as an independent intermediary between the Universities and a network of external partners, including student bodies and advises the decision-makers on the matter of Cultural and Educational Development policy to meet the requirements of the emerging demands.
Founded in 1925 with the goal of providing scholarships for the best candidates, almost 2 Million scholars in Germany and abroad have been awarded DAAD Scholarships.
Note: DAAD does not offer study programs, but awards competitive and merit-based scholarships for study and research programs in Germany and abroad.
For our purpose, we're going to use DAAD's website to find study programs.
Next, we'll be setting our search criteria.
Whether you're looking to do Bachelor, Masters or Ph.D., you'll find your intended degree type to choose from.
Choose the language you'd be willing to study in and finally your field of study.
Once you've chosen all the options using the drop-down, hit Search.
Tip: You can even search for your intended course using the search bar e.g. search for "Mechatronics Engineering" and choosing either 1 or all 3 options.
For the purpose of this demonstrations, I went with the following settings;
Course Type: Bachelor's Degree
Course Language: English only
Field Of Study: Engineering
According to DAAD, there are 37 Bachelor Degree's in the field of Engineering being taught fully in English in Germany.
Tip: You can use the Advanced Search to narrow down your search even better.
Scan through the options and choose the courses that seem worth pursuing to you.
Now we'll have to go over some intricate details about the courses for e.g. admissions, costs, dates etc.
Choose your first option, and click "more"
This will take us to a new webpage with detailed information about all the the aspects of this degree.
Here, we'll need to make sure that this course is indeed being taught fully in English or not.
Another important piece of information is the start of semester i.e. Winter or Summer
Note: German Universities offers admissions in either Summer or Winter Semesters. In some cases, admissions are offered in both.

Summer Semester: April – September
Winter Semester: October – February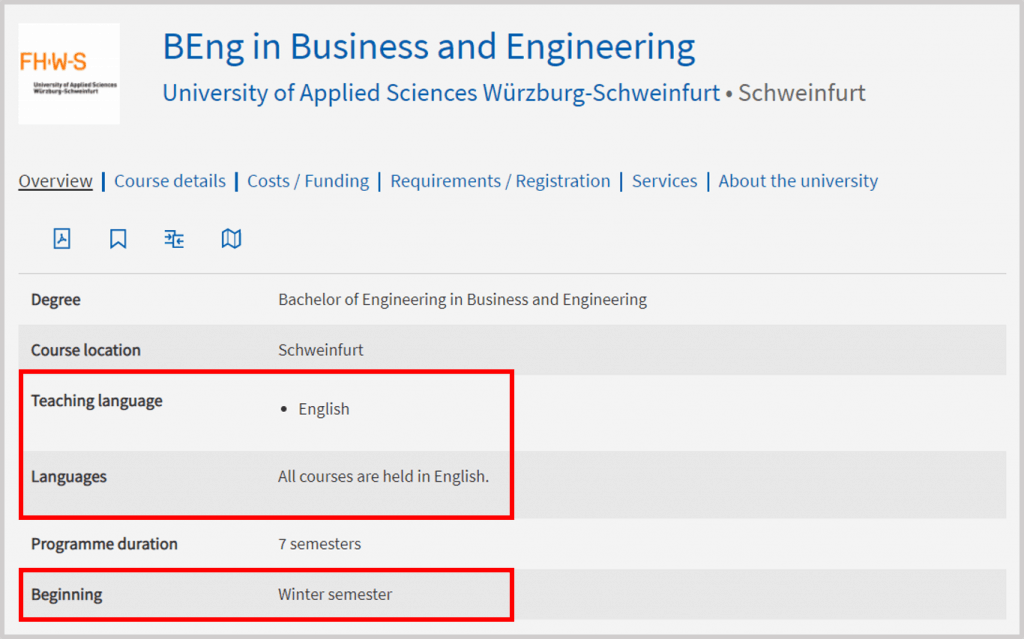 Although Germany is famous for opening its door to international students and offering education at very minimal cost, at the time of this writing, the state of Baden-Wurttemberg has since 2016 set a tuition fee of 1500€ per semester if you're not an EU citizen.
Moreover, certain state-owned Universities do offer paid programs. These are mostly designed with an industry or a company and cover a specific field of study and can range anywhere between 4000-8000€ per year.
Therefore, we'll have a look at the cost and funding for this course for a clear answer.
As you can see, there are no tuition fees to be paid on a semester or yearly basis and thus falls in the category we're looking for.
Semester Contribution, often confused with tuition, is a mandatory amount you pay to University and in return you get,
Mobility Contribution (Semester Ticket): With the semester ticket, you can use the public transport for free of charge with no time restriction. Normally, you'd have to pay about 100€ a month for limited access to certain areas.
Social Contribution for Student Services (Studierendenwerk): Student Hostels where students can get cheaper accommodation in the vicinity of the University.
Student Body Contribution (AStA): AStA is an external student body representative organization in most (not all) German Universities. Think of it as a student government that has the best interest of the students in mind.
Cost of living varies from student to student and includes rent, utilities, food, shopping and misc.
Next, we're going to check the admission requirements.
Again, this is another vital piece of information that needs thorough reviewing.
If you're coming from a non-EU country, then you'll have to make sure that you complete the following requirements;

Language requirements include, as with other Universities, IELTS and TOEFL scores.
Next, you'll need to find out the process of submitting your application and the deadline.
Note: More and more Universities are gravitating towards UniAssist – An external application processing agent. They act as intermediaries and make sure that Universities receive complete application documents with among other things, the necessary accreditation checks and grades conversions taken care of. This relieves the Universities of most of the grunt work and makes it easier for them to evaluate the applications.
However, there is fee involved and depends on the number of your applications.
For this University, they apparently have their own online portal where I presume, you'll have to make your profile and upload the required documents.
Going to their website, their application portal is just a couple of mouse clicks away.
Final Words
At one point in time, I also dreamt of studying in Germany.
Either through sheer luck or unending motivation, but definitely through some sleepless nights I was able to put the application puzzle piece by piece in its place.
Therefore, I hope you won't have to go through those stages and are able to find your course of study in a matter of hours rather than days or weeks.